---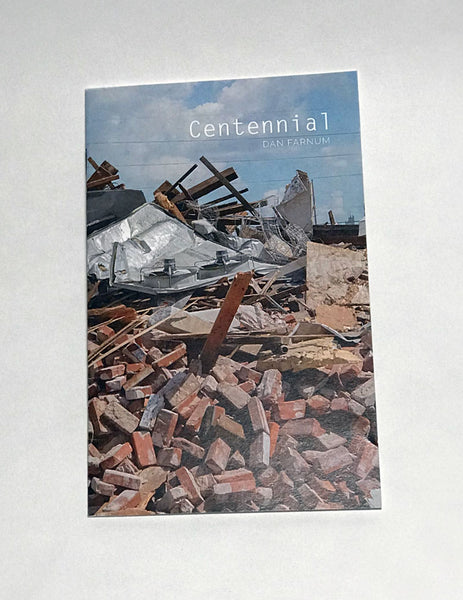 Centennial // Dan Farnum
Regular price $10.00
This publication is a response to the Tulsa Development Authority document called Amendments to The Greenwood-Unity Heritage Neighborhoods Sector Plan and a related blight study. The written text and some of the images were appropriated from the report. This part of town is rapidly changing due to new construction, but it also has a rich and complex history.The land at one time
belonged to Native Americans. This area was also the home of a prosperous African American community and the site of the 1921 Tulsa Race Massacre. The area was later impacted by the construction of an expressway that cuts through the community. Currently, the city is investigating the locations of mass graves from the 1921 massacre.
ABOUT THE ARTIST //
Dan Farnum was born in Saginaw, Michigan. He received his MFA from the San Francisco Art Institute and BFA from the University of Michigan. His photographs were recently exhibited at the Aperture Foundation in New York, Burrard Arts Foundation in Vancouver, Royal Albert Hall in London, Bergamot Station in Santa Monica, and at Photo Book Melbourne in Australia. His photographs have been published in multiple places including TIME and the Beijing-based magazine called Vision. Dan is currently an Associate Professor of Photography at The University of Tulsa.